Upcoming PRISM Events
Sat., January 18, 2014:
PRISM Omaha Paranormal Investigation
Iowa Restaurant

November 2013:
PRISM Omaha Paranormal Investigation
Joslyn Castle
Omaha, Nebraska
Recent Press

November 3, 2012: PRISM Director Carl Norgard and investigator Brian Heath were mentioned in a newspaper article entitled, Groups seek proof in a world of darkness. The article centered around PRISM's investigation of the Ball Cemetery in Springfield, Nebraska and was written by World-Herald Leader Staff Writer Mike Bell.

>> Read the article here
Recent Media

October 31, 2012
PRISM director Carl Norgard and lead investigator Kelley Kennedy were interviewed on Halloween 2012 on Omaha, Nebraska's Q98.5 FM on the Pat & JT in the Morning radio show. Several new EVPs from the historic Squirrel Cage Jail were played.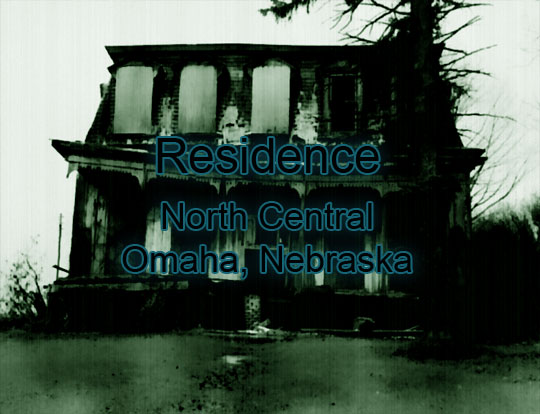 On June 22, 2012, PRISM investigated at a Private Residence in Omaha, NE. Investigators present were Carl, Kelley, Bo, Brian, Karen, Jeremy and Shannon. The home owner also stayed for the investigation, but her children and husband left the location.

The owner's claims were of a nuisance ghost named Fred who made noises and scared her, her children and the family dog. The owner wanted the house cleansed. We made sure to tell her that cleansing a house can sometimes lead to more paranormal activity. Permission was given to gather as much information as possible prior to cleansing the house for the home owner using sage and holy water.

The home owner contacted PRISM and asked us to return for additional assistance in September.

After PRISM's first visit, the home owner experienced an angry evil spirit as did her children. It had gotten to the point that the children refused to sleep in their rooms. Both the family and members of PRISM felt that the "prankster spirit" had left the establishment and allowed an evil spirit to take its place.

On September 28, 2012, PRISM investigators Carl, Kelley, Bo and Lisa went back out to the home to conduct a second investigation. During the evening, all investigators felt uneasy and Investigators Kelley and Lisa both heard growling throughout the night. After the investigation, PRISM conducted a thorough cleanse, once again using Sage and Holy Water to rid the house of spirits.

In November 2012, the home owner contacted PRISM to confirm that whatever negative evil spirit that was in the home is no longer there. They feel that their house may still be haunted, but all members of the family are able to sleep in their own bedrooms and do not feel threatened by whatever may be sharing the home with them.
Audio Evidence #2
This EVP was captured on September 28, 2012, during our second investigation. The recording took place in the children's room located at the back of the house. PRISM investigators present at time of recording are Carl, Kelley, Bo and Lisa.

A child's voice can be heard talking over Carl's voice.

No one in the room physically heard the child's voice. The child's voice was only heard in the recording.

>> Listen to the original audio (followed by EVP repeated x2)
Audio Evidence #1
This EVP was captured on June 22, 2012, during our first investigation. The recording took place in the children's room located at the back of the house. PRISM Investigators present at the time are Kelley, Brian, Jeremy, and Bo.

The PRISM investigators can be heard having a conversation regarding a medical procedure. Did a spirit attempt to join in on the conversation? No one in the room was talking over Kelley while she spoke about the medical screwdriver and no one physically heard the whispers. The two eerie whispers were only heard in the recording.

>> Listen to the original audio (followed by EVP repeated x2)