PRISM Team Bios
Important Message:
It has come to our attention that there are people who are trying to pass themselves off as us, as PRISM, and then entering peoples homes. We can't stress enough, how important it is to verify who it is that is about to enter your home before letting them in.

Before working with us, please make sure to visit our About Us page to view our staff photos. Also, very important, at PRISM Omaha, we never charge. Please don't be scammed!

~ Carl N. (Director of Prism Omaha) & David R. (Founder of PRISM Omaha) 8/27, 2013
Upcoming PRISM Events
Sat., January 18, 2014:
PRISM Omaha Paranormal Investigation
Iowa Restaurant

November 2013:
PRISM Omaha Paranormal Investigation
Joslyn Castle
Omaha, Nebraska
WHATS NEW?
January 22, 2014:
Added pre-investigation notes and PSB-7 ITC session video of the Miami City Cemetery, in Miami, Florida.

January 2014:
PRISM Miami researching several South Florida possibly haunted locations: Coral Castle, the Merrick House Coral Gables, the Biltmore Hotel, City of Miami Cemetery, Pinewood Cemetery, and Charlotte Jane Memorial Park (Coconut Grove Bahamian) Cemetery, the Coconut Grove Playhouse, and Peacock Park.

December 30, 2013:
Updated PRISM team photos

November 13, 2013:
Added Squirrel Cage Jail FOX KPTM News clip from July 2005

November 8, 2013:
Added EVP video analysis of class A EVP #SLAVIC recorded at the Squirrel Cage Jail in Council Bluffs, Iowa

November 5, 2013:
Added Scribner-Snyder Trojan Times article about PRISM investigations at the Old Harder Hotel in Scribner, Nebraska

October 31, 2013:
Added CBS KMTV Halloween 2013 television news story about PRISM investigations at Hummel Park in Omaha, Nebraska
Recent Media


Pat & JT Q98.5 After Dark!
9pm to Midnight Saturday 10/26/13
Live @ the Q98 Five Leinie Lounge
Hosts: Pat & JT
Guests: PRISM & Psychic Andy
Encore broadcast:
Part 1 | Part 2
Recent Press

November 3, 2012: PRISM Director Carl Norgard and investigator Brian Heath were mentioned in a newspaper article entitled, Groups seek proof in a world of darkness. The article centered around PRISM's investigation of the Ball Cemetery in Springfield, Nebraska and was written by World-Herald Leader Staff Writer Mike Bell.

>> Read the article here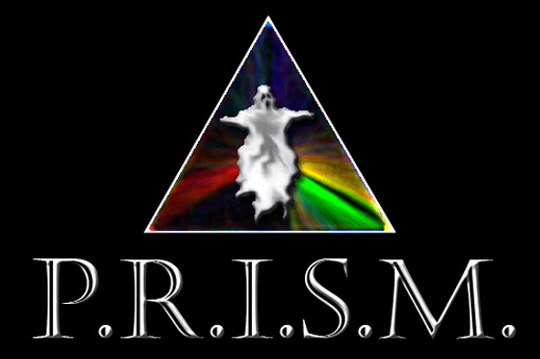 Paranormal Research & Investigative Studies Midwest (PRISM) is a non-profit privately funded paranormal research team founded in Omaha, Nebraska, in 2003, by David Pierce Rodriguez with the goal is to aid those who need help with a paranormal situation occurring in their home or place of business, and while doing so, recording as much evidence as possible of any paranormal events taking place.

Our paranormal investigations are always conducted free of charge. Upon request, our investigations will be treated with total confidentiality. Evidence and information collected during our private investigations is not publicly released without the consent of those involved.

P.R.I.S.M. never charges for a paranormal investigation of a home or business!
PRISM TEAM - MIAMI, FLORIDA


Paranormal Investigator
Sarah Santiago




Psychic Medium
Carolina Ramirez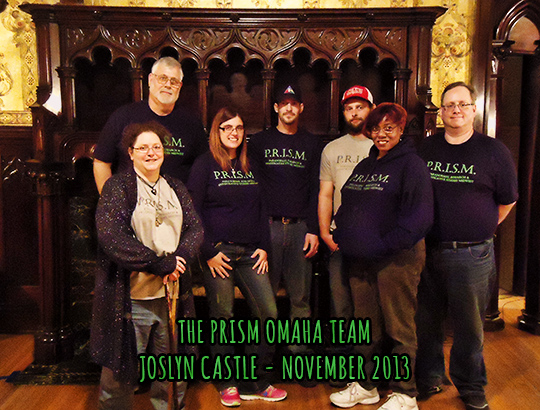 PRISM TEAM - OMAHA, NEBRASKA


Paranormal Investigator
Rosemary O'Hanlon





Paranormal Investigator
Jeremy Anderson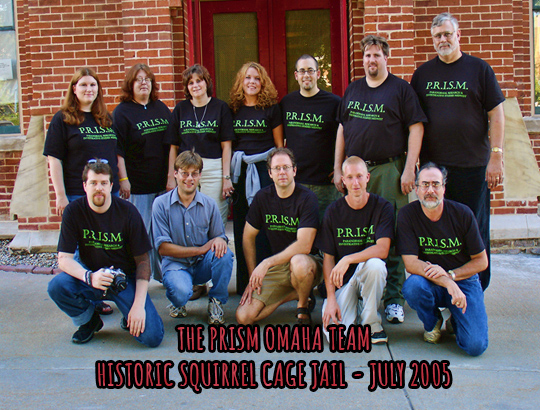 Paranormal Investigator
Nichole Crockett





Paranormal Investigator
Michael Beacom





Paranormal Investigator
Cassandra Beacom





Paranormal Investigator
Lisa Krasso



Paranormal Investigator
Kevin Potter



Paranormal Investigator
Shannon Tarvin





Paranormal Investigator
Brian Heath



Paranormal Investigator
Trevor Redmond





Paranormal Investigator
Sara Grey