Paranormal Files
Around the Globe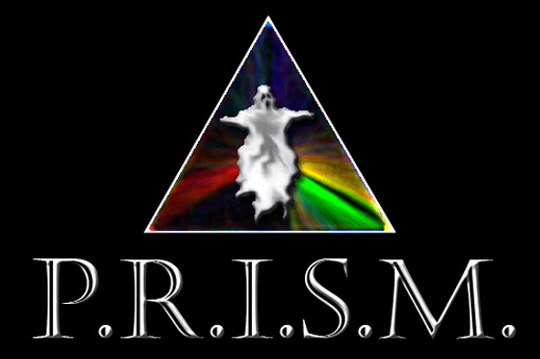 PRISM PARANORMAL RESEARCH GEAR
EVP session conducted via autonomous robot, ParaBot (April 2017)

An example of the PRISM ParaBot paranormal research robot conducting an autonomous electronic voice phenomena (EVP) session. Recorded by David Pierce Rodriguez in Miami, Florida on April 26, 2017. The ParaBot is decked-out with a 360° full-spectrum modified 4K camera, 2 FLIR FX cameras (front & back), 360° infrared lighting, 2 audio recorders (including the rare Panasonic RR-DR60), a PSB-7 Spirit Box, a walkie-talkie, a compass, 2 EMF meters (a K-II EMF meter & a DSP-523 that ignores 50 and 60 Hz power line frequencies). His sensors include: barometric pressure, static electricity, movement, light, and temperature (via the Paranormal Puck 2).

EVP experiment with 7 Panasonic RR-DR60 recorders (3/26/2017)

Note: This is a 360° VR video, best viewed w/ a VR headset.

Electronic Voice Phenomena (EVP) experiment using 7 different Panasonic RR-DR60 Digital IC audio recorders at the haunted Gulfstream Hotel in Lake Worth, Florida on March 26, 2017. PRISM Paranormal Research South Florida, War Party Paranormal Research, and special guest, Robb Demarest. Footage recorded on a full-spectrum modified 4K 360Fly using a Colorado Paratech GL6-PRO-360-II infrared illuminator.

The Holy Grail of EVP recorders - Panasonic RR-DR60 IC Recorder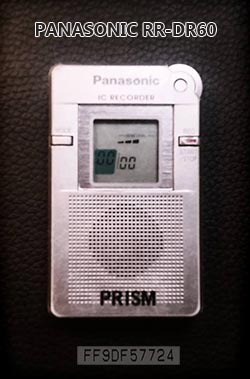 Considered the "Holy Grail" of EVP equipment, the Panasonic RR-DR60 IC Recorder is unparalleled when it comes to detecting paranormal presences and recording Electronic Voice Phenomena (EVP). The RR-DR60 was manufactured between 1998 and 1999. First edition units begin with the serial number, FDxxxxxxxx and FFxxxxxxxx.

The RR-DR60 model was said to have been discontinued because a great deal of people complained to Panasonic about how they were "hearing voices that weren't supposed to be there". Panasonic recalled the units and replaced the RR-DR60 with the RR-QR series.

The RR-DR60 digital audio recorder is not a great deal larger than a credit card, the IC Memory Recorder has a built-in speaker and a headphone socket, and is powered by two AAA batteries, enough for eight hours of playback, or ten hours of recording. A maximum of 60 minutes of audio can be stored in the 2MB of memory, with each individual memo file allocated a different number. Up to 99 memos can be stored, and each one is given a time and date stamp that is visible on the device's small LCD screen. Using the rotating jog dial, it is possible to jump to a particular memo and play it back. There's also a feature to automatically play the first few seconds of each file, so that you can quickly track down the one you want. Memos can be deleted individually or all at once, there's an option to increase or decrease playback speed, and the device uses a voice activated sytem (VAS) to autimatically pause when no sound is heard. The VAS can controlled by adjusting the microphone sensitivity. A small red record lamp will flash at the top of the RR-DR60 when the VAS is working and recording stops temporarily. The red light can be particularly useful during an EVP session to visually tell when the recorder is actually picking up an EVP in a quiet room.

Official RR-DR60 Operating Manual (PDF)



The audio clip above is an example of an EVP captured on a Panasonic RR-DR60 IC Recorder. The audio clip was recorded in a private residence in Coral Gables, Florida on November 18, 2015, by PRISM founder David Pierce Rodriguez. It begins with the original clip of David saying, "Hi. This is David.", followed by an almost immediate EVP response. The EVP is replayed, followed by a version with a noise reduction filter added, then finally slowed down.
Paranormal Playpen | 4K 360Fly Video (1/1/2017)

Note: This is a 360° VR video, best viewed w/ a VR headset.

4K 360fly Full-Spectrum Video | Experiment #1 ~ ​Testing out the new full-spectrum modified 4K 360fly for the first time in complete darkness with only the aid of a GhostStop.com IR Puck for added 360° infrared lighting. Working on a new concept called the "Paranormal Playpen". This video was recorded in Miami, Florida at 1:07 a.m., January 1, 2017 by PRISM Paranormal Research founder David Pierce Rodriguez.

Equipment used inside of the Paranormal Playpen: GhostStop Full-spectrum modified 4K 360fly, GhostStop IR Puck, Panasonic RR-DR60 Digital IC Recorder #1 (Japanese version), Panasonic RR-DR60 Digital IC Recorder #2 (American version), Tascam DR-05 digital audio recorder, Digital Dowsing Paranormal Puck 2, REM-POD proximity and temperature sensor, Tenmars TM-190 Multi-Field meter, DAS Distribution MEL Meter Multi-Tool, Digital Dowsing Ovilus III ITC Research Device, CenTex Paranormal EDI+ Multi-Tool, Lutron 822-A EMF Meter, 360 Parascope Triboelectric Field Meter, and 4 motion-activated (green/red LED) proximity sensors.
Microsoft Kinect v2 (October 2015)


October 2015 - A video clip of PRISM founder, David Pierce Rodriguez, trying out the Microsoft Kinect v.2 for Windows PC. This is a quick demo of the features including Kinect Evolution and trying out open and closed hand gestures.
New PRISM Equipment Demo (Summer/Fall 2015)


August 2015 - A video clip of PRISM Nebraska investigator Kerry Jasa showing off some our new paranormal gear for Summer/Fall 2015!
PRISM | Thermal Imaging Camcorder Set Up (May 30, 2015)

Video of PRISM and the Thermal Imaging Camcorder set up at Farrar Schoolhouse May 30, 2015.
PRISM | Wimshurst Generator @ Farrar Schoolhouse (May 30, 2015)

Video from PRISM's investigation of the Farrar Schoolhouse May 30, 2015 while using the Wimshurst Generator.
First Look at the Ovilus IV 4 ITC Research Device (October 2014)


October 2014 - PRISM Miami just received their new Ovilus IV! This is a first look at the Digital Dowsing Ovilus IV (4) Instrumental Transcommunication (ITC) research device, also known as a "spirit box" or "ghost box". In this video, all modes are looked at and the device is compared to the last model Ovilus III (3). The device tested is a pre-order model from early October 2014.