PRISM on Facebook
Recent Press

2017 PRISM EVENTS
November 15, 2017
Radio Interview
La Poderosa 670 AM
El Mundo al Día con Enrique Encinosa
South Florida, Keys, Orlando

October 29, 2017
Event Host
Hit That Dive
4th Annual Haunted Hangover
Omaha, Nebraska

October 26, 2017
Event Host
Historic Ghost Tour​
Deering Estate
Miami, Florida

October 21, 2017
Event Host
Public Paranormal Investigation​
Gold Coast Railroad Museum
Miami, Florida

October 19, 2017
Event Host
Historic Ghost Tour
Deering Estate
Miami, Florida

October 13, 2017
Event Host
Overnight Ghost Hunt (Spookover)​
Deering Estate
Miami, Florida

October 6, 2017
Event Host
Ghost Hunt w/ Arvida M.S.
Deering Estate
Miami, Florida

October 2017
(Friday nights in Oct.)
Event Host
Haunted Hollow
Omaha, Nebraska

October 2017
(Weekends in Oct.)
Event Host
Paranormal Classes
Nopeming Sanitorium
Duluth, Minnesota

August 18, 2017
Paranormal Investigation
Residence
Kendall, Florida

August 16, 2017
Radio Interview
La Poderosa 670 AM
El Mundo al Día con Enrique Encinosa
South Florida, Keys, Orlando

June 14, 2017
Radio Interview
La Poderosa 670 AM
El Mundo al Día con Enrique Encinosa
South Florida, Keys, Orlando

May 9, 2017
Paranormal Investigation
Residence
Doral, Florida

May 6 & 7, 2017
Event
3rd Annual Black Angels Hearse & Pro Car Show
Westfair Fairgrounds
Council Bluffs, Iowa

April 1, 2017
Paranormal Investigation
Victor Hotel
Victor, Colorado

March 25, 2017
Paranormal Investigation
Gulfstream Hotel
Lake Worth, Florida

February 2017
Paranormal Investigation
Museum of Colorado Prisons
Cañon City, Colorado

February 22, 2017
Radio Interview (8-10 PM)
La Poderosa 670 AM
El Mundo al Día con Enrique Encinosa
South Florida, Keys, Orlando

February 18, 2017
Paranormal Investigation
Undisclosed location
Broward County, Florida

February 3, 2017
Paranormal Investigation
Deering Estate
Miami, Florida

January 2017
Paranormal Investigation
Cheeseman Park
Victor, Colorado

January 21, 2017
Paranormal Investigation
Private Residence
Omaha, Nebraska

January 18, 2017
Radio Interview
La Poderosa 670 AM
El Mundo al Día con Enrique Encinosa
South Florida, Keys, Orlando

January 11, 2017
Award Ceremony
Programming Partner of the Year
Deering Estate
Miami, Florida

January 6, 2017
Event Host
Deering Estate
Miami, Florida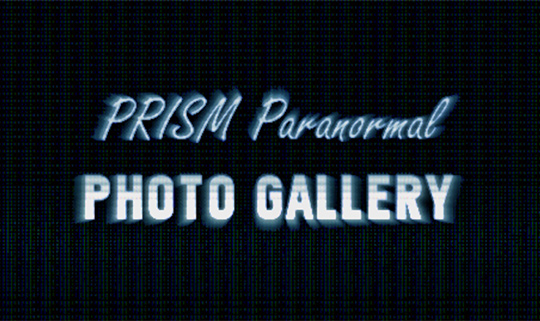 Ralston Apartment
Ralston, Nebraska 2005
Photo: Kelley Kennedy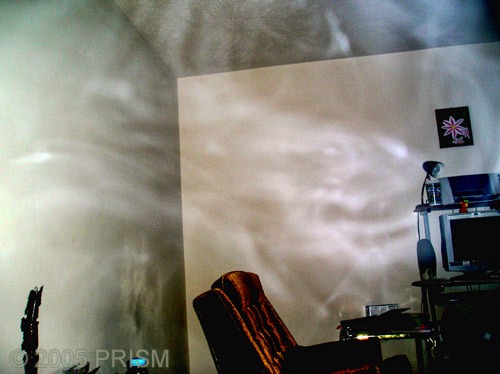 The Deering Estate
Miami, Florida 2014
Photo: Carlos Garcia, Jr.
A photograph taken in 2014 from the inside of Mrs. Deering's second story bedroom shows her possible apparition outside of her balcony door. This incredible photograph was taken late at night by Carlos, from the doorway, as he was about to leave Marion Deering's bedroom. What makes it so convincing is that he was the only one on the room and that the balcony door is always locked and the second story balcony is inaccessible from the outside. Two photographs were shot in succession. One shows the anomaly in the window and one doesn't. Could this be the ghost of Mrs. Deering?

The original photographs can be viewed here: PHOTO 1 (taken 1st) | PHOTO 2 (taken 2nd)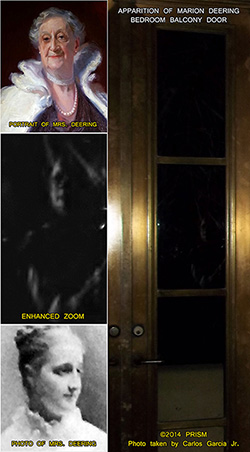 The possible apparition of Mrs. Deering's in the 2nd floor balcony door
Photo credit: Carlos Garcia, Jr.
Elk City Cemetery
Elk City, Nebraska 2005
Photo: Dan Christanson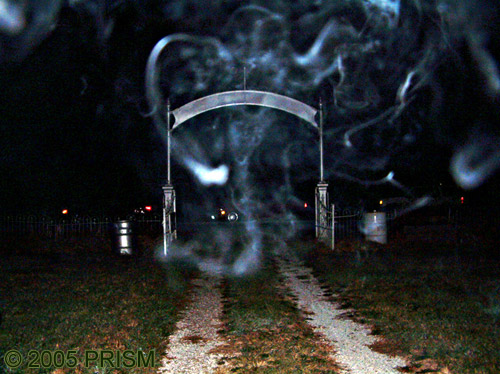 Dodge House
Council Bluffs, Iowa
Photo: Darktania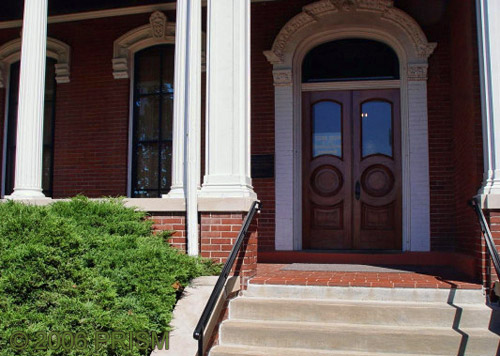 Close-up of Dodge House front door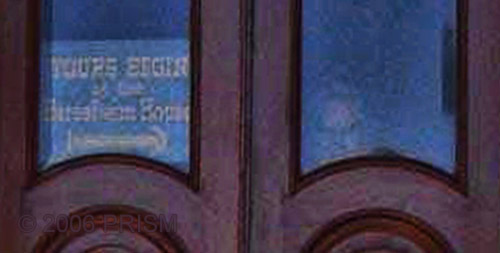 Downtown Omaha Residence
Omaha, Nebraska 2005
Photo: Dan Christianson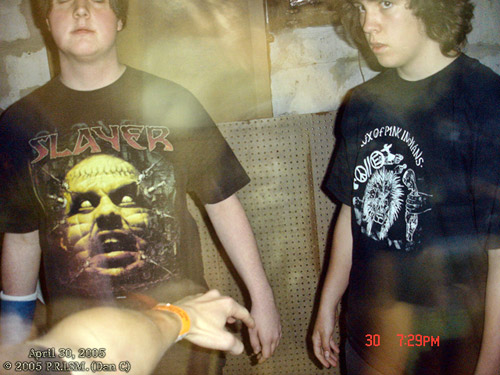 Villisca Axe Murder House
Villisca, Iowa 2005
Photo: Miller's Paranormal Research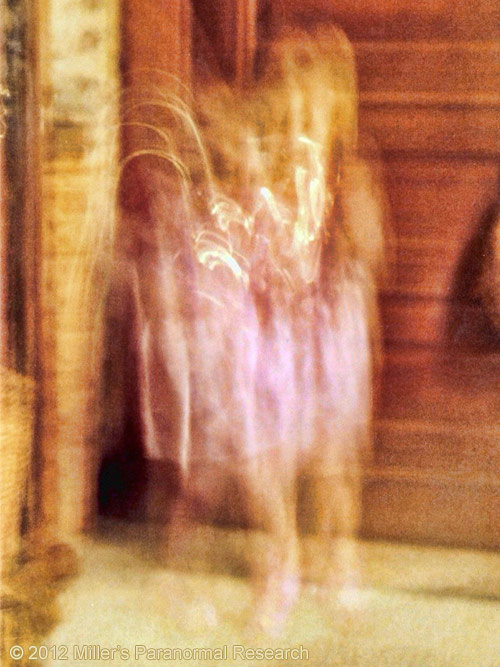 At least 3 Moore children can be seen in this photograph taken by MPR on a 35mm camera in the kitchen of the Villisca Axe Murder House in 2005. The children were murdered in their home in 1912.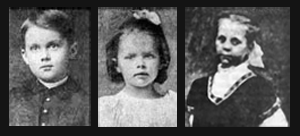 Villisca Axe Murder House
Villisca, Iowa 2005
Photo: David Pierce Rodriguez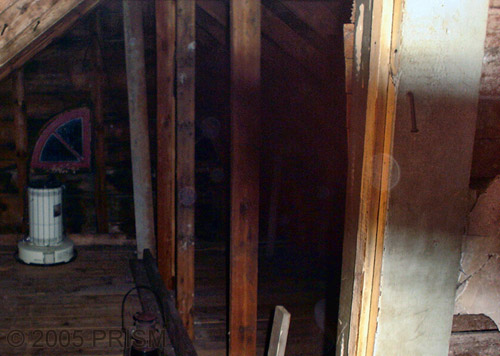 Squirrel Cage Jail
Council Bluffs, Iowa 2005
Photo: David P. Rodriguez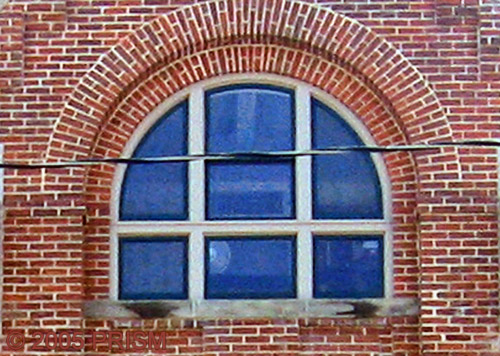 Downtown Omaha Residence
Omaha, Nebraska 2005
Photo: Anney Horn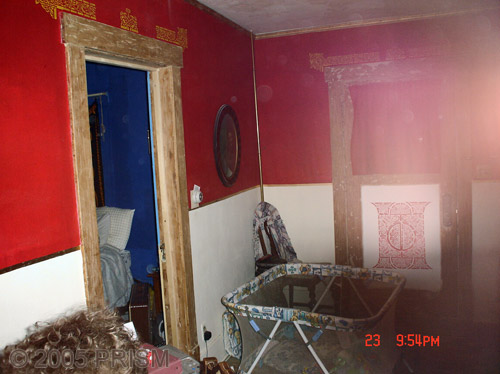 Flamenco Restaurant
Jerez, Spain 2002
Photo: David Pierce Rodriguez