PRISM on Facebook
Bedroom Orb Video
All four Moore children were murdered in their beds in this bedroom on June 10, 1912. Could this orb be the spirit of one of the Moore children?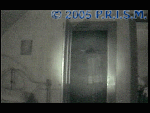 This 2005 infrared video footage was taken by PRISM founder David Pierce Rodriguez from a window sill in the children's bedroom of the Moore residence. As a PRISM investigator approaches the door to the children's bedroom, a mysterious orb flies towards our trigger item.

Our trigger item was a dress, similar to the one a young turn-of -the-century girl would have worn to go to church. The Moore and Stillinger girls would have been wearing their Sunday best before they went to sleep on the night of their unfortunate deaths. The vintage dress can be seen hanging in the center of the closet.
2017 PRISM EVENTS
November 15, 2017
Radio Interview
La Poderosa 670 AM
El Mundo al Día con Enrique Encinosa
South Florida, Keys, Orlando

October 29, 2017
Event Host
Hit That Dive
4th Annual Haunted Hangover
Omaha, Nebraska

October 26, 2017
Event Host
Historic Ghost Tour​
Deering Estate
Miami, Florida

October 21, 2017
Event Host
Public Paranormal Investigation​
Gold Coast Railroad Museum
Miami, Florida

October 19, 2017
Event Host
Historic Ghost Tour
Deering Estate
Miami, Florida

October 13, 2017
Event Host
Overnight Ghost Hunt (Spookover)​
Deering Estate
Miami, Florida

October 6, 2017
Event Host
Ghost Hunt w/ Arvida M.S.
Deering Estate
Miami, Florida

October 2017
(Friday nights in Oct.)
Event Host
Haunted Hollow
Omaha, Nebraska

October 2017
(Weekends in Oct.)
Event Host
Paranormal Classes
Nopeming Sanitorium
Duluth, Minnesota

August 18, 2017
Paranormal Investigation
Residence
Kendall, Florida

August 16, 2017
Radio Interview
La Poderosa 670 AM
El Mundo al Día con Enrique Encinosa
South Florida, Keys, Orlando

June 14, 2017
Radio Interview
La Poderosa 670 AM
El Mundo al Día con Enrique Encinosa
South Florida, Keys, Orlando

May 9, 2017
Paranormal Investigation
Residence
Doral, Florida

May 6 & 7, 2017
Event
3rd Annual Black Angels Hearse & Pro Car Show
Westfair Fairgrounds
Council Bluffs, Iowa

April 1, 2017
Paranormal Investigation
Victor Hotel
Victor, Colorado

March 25, 2017
Paranormal Investigation
Gulfstream Hotel
Lake Worth, Florida

February 2017
Paranormal Investigation
Museum of Colorado Prisons
Cañon City, Colorado

February 22, 2017
Radio Interview (8-10 PM)
La Poderosa 670 AM
El Mundo al Día con Enrique Encinosa
South Florida, Keys, Orlando

February 18, 2017
Paranormal Investigation
Undisclosed location
Broward County, Florida

February 3, 2017
Paranormal Investigation
Deering Estate
Miami, Florida

January 2017
Paranormal Investigation
Cheeseman Park
Victor, Colorado

January 21, 2017
Paranormal Investigation
Private Residence
Omaha, Nebraska

January 18, 2017
Radio Interview
La Poderosa 670 AM
El Mundo al Día con Enrique Encinosa
South Florida, Keys, Orlando

January 11, 2017
Award Ceremony
Programming Partner of the Year
Deering Estate
Miami, Florida

January 6, 2017
Event Host
Deering Estate
Miami, Florida