Events & Investigations
December 2014:
The Edinburgh Manor
Scotch Grove, Iowa

November 14, 2014:
Private Investigation
West Omaha Residence
Omaha, Nebraska

November 8, 2014:
Private Investigation
Council Bluffs, Iowa

November 4, 2014:
Private Investigation
Haunted Limousine
Council Bluffs, Nebraska

November 2014:
Private Investigation
Corby Street House
Haunted property for sale
Omaha, Nebraska

October 31, 2014:
TV Guest Interview
América TeVé
Airing @ Oct. 31
Miami, Florida

October 31, 2014:
Pat & JT In the Morning Q98.5
​Omaha, Nebraska
On air from: 6:30 AM - 9:30 AM

October 28, 2014:
TV News Interview
WOWT NBC News
Airing @ 10 PM Tues. Oct. 28
Omaha, Nebraska

October 25, 2014:
Event
Pat and JT After Dark 2.0
Omaha, Nebraska

October 24, 2014:
UNO Paranormal Summit
~ In Memory of PRISM Omaha Director, Carl Norgard ~
Omaha, Nebraska
6 PM to 10PM

October 23, 2014:
PRISM Guest Investigators
The Charles Deering Estate
Cutler, Florida

October 22, 2014:
Presentation
Elkhorn Ridge Middle School
Omaha, Nebraska

October 17, 2014:
Private Tour/Investigation
The Charles Deering Estate
Cutler, Florida

October 10, 2014:
Private Investigation
Omaha Residence
Omaha, Nebraska

September 6, 2014:
Private Investigation
David City Residence
David City, Nebraska

May 22, 2014:
PRISM Omaha will be speaking at the R M Marrs Magnet Middle School for their week-long exploratory 'Ghost Hunters' unit.

May 10, 2014:
PRISM Miami conducting a private residential investigation with our friends Messengers Paranormal.

April 2014:
PRISM Miami researching several South Florida possibly haunted locations: Coral Castle, the Merrick House Coral Gables, the Biltmore Hotel, City of Miami Cemetery, Pinewood Cemetery, and Charlotte Jane Memorial Park (Coconut Grove Bahamian) Cemetery, the Coconut Grove Playhouse, and Peacock Park.
April 11, 2014:
Paranormal Investigation
Villisca Ax Murder House
Villisca, Iowa

February 2014:
Paranormal Investigation
Sokol Underground
Omaha, Nebraska

January 18, 2014:
Paranormal Investigation
Doodle's Grill
Glenwood, Iowa

>> More PRISM events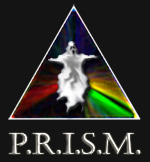 Do you see dead people? Have you ever experienced an encounter with a spirit? Have you ever been to or lived in a place that was haunted by a ghost? Maybe you've even seen or felt the presence of a recently deceased relative or close friend? Most of us have witnessed some type of paranormal event at some point in our life. At PRISM, we believe that the paranormal phenomena we are witnessing, is real and does exist!

Currently there is no scientific way to prove the existence of ghosts or spirits. However, as technology continues to improve, so do our chances of explaining both residual and intelligent hauntings. Are we now able to finally shed a light on the unexplained? Can we find the smoking gun ....the proof that ghosts and spirits exist? Can we garner enough repeatable and verifiable evidence to prove the existence of ghosts? The answer is YES and the time is NOW!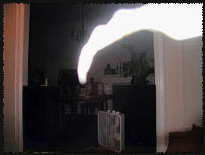 The PRISM Paranormal Research Team is there to not only try and capture proof of a haunting occurring in your home or workplace, but if needed, to work with you in coming up with a solution to help alleviate any problems or fears being caused by the paranormal activity.

Paranormal Research & Investigative Studies Midwest (PRISM) and Paranormal Research and Investigative Studies Miami (PRISM) are non-profit privately founded paranormal research teams. Founded in 2003 in Omaha, Nebraska by paranormal researcher David Pierce Rodriguez. The Director of PRISM Omaha is Carl Norgard and Assistant Director Kelley Kennedy. PRISM Miami was founded in 2014 by David Pierce Rodriguez.
P.R.I.S.M. never charges for a paranormal investigation of a home or business!
First Look at the Ovilus IV 4 ITC Research Device - October 2014
This is a first look at Digital Dowsing's Ovilus IV (4) Instrumental Transcommunication (ITC) research device also known as a "spirit box" or "ghost box". In this video, all modes are looked at and the device is compared to the last model Ovilus III (3). The device tested is a pre-order model from early October 2014.
Featured Photograph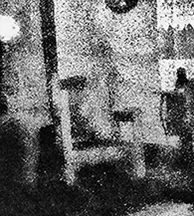 On August 30, 2013, PRISM spent another night at our favorite haunt, the Villisca Axe Murder House. The amount of evidence captured at the house was phenomenal. This photo was shot on an Olympus 8MP digital camera by PRISM investigator Michael Beacom in the parlor room. Is this the ghost of one of the Moore children?

>> Take a look at the original photo here



FEATURED E.V.P. (ELECTRONIC VOICE PHENOMENA
CLASS A EVP - #SLAVIC (6/8/05) - This EVP was captured on an Olympus W-10 digital audio recorder by PRISM founder David Pierce Rodriguez on June 8, 2005, while taping a short interview with jail manager Ryan Roenfeld regarding the deaths that have occurred in the Historic Old Pottawattamie County Squirrel Cage Jail in Council Bluffs, Iowa over the years.
At the end of the interview, jail manager Ryan Roenfeld says, "That's really about all the prisoner deaths we know about ...not very many of them." After saying that, a click is heard followed by a male voice saying something unintelligible. Immediately after that, the interview comes to an end, both David and Ryan can be heard laughing and talking. Both David or Ryan did not hear the click or the voice. It was only later heard back on the digital recording. Listeners have identified what sounds like a Slavic male voice.



This video clip contains an EVP analyzed with the use of an output level meter,
a 3D spectrogram (top area), and spectrum (bottom bar).
May 19, 2008 - Radio

PRISM founder, David Pierce Rodriguez, was interviewed in Miami on South Florida's WAXY 790 AM 'and 104.3 FM
Sports Talk Radio The Ticket
by Alan Strauss and Larry Milian on the 'Dos Amigos' show on May 19, 2008. Several PRISM EVP audio recordings were played throughout the interview.
The Villisca Ax Murder House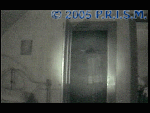 All four Moore children were murdered in their beds in this bedroom on June 10, 1912. Could this orb be the spirit of one of the Moore children?

This 2005 infrared video footage was taken by PRISM founder David Pierce Rodriguez from a window sill in the children's bedroom of the Vilisca Axe Murder House. As a PRISM investigator approaches the door to the children's bedroom, a mysterious orb flies towards our trigger item.

Our trigger item was a dress, similar to the one a young turn-of -the-century girl would have worn to go to church. The Moore and Stillinger girls would have been wearing their Sunday best before they went to sleep on the night of their unfortunate deaths. The vintage dress can be seen hanging in the center of the closet.
Recent Media

October 18, 2013:
PRISM director Carl Norgard and lead investigator Kelley Kennedy were interviewed on Halloween 2012 on Omaha, Nebraska's Q98.5 FM on the Pat & JT in the Morning radio show. Several new EVP were played on-air.
Recent Press

November 3, 2012: PRISM Director Carl Norgard and investigator Brian Heath were mentioned in a newspaper article entitled, Groups seek proof in a world of darkness. The article centered around PRISM's investigation of the Ball Cemetery in Springfield, Nebraska and was written by World-Herald Leader Staff Writer Mike Bell.

>> Read the article here
Psychic Andy Myers