PRISM Worldwide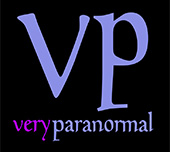 Sign up to the email list and become founders of a great community!
Register for free-level membership immediately upon launch, and receive a premium discount offer for a subscription-level membership.
2016 EVENT CALENDAR
August 2016
Int'l. Paranormal Investigations
w/ Ecuador Paranormal
Quito & Guayaquil, Ecuador

May 12-19, 2016
Int'l. Paranormal Investigations
Havana, Cuba

May 15, 2016
Television Interview
Mira Que Trending
Mira TV @ 6 pm
Miami, Florda

April 16, 2016
Paranormal Investigation
Gold Coast Railroad Museum
Miami, Florida

March 4, 2016
Volunteer Investigators
Overnight Spookover
The Deering Estate
Miami, Florida

February 27, 2016
Paranormal Investigation
Gulf Stream Hotel
Lake Worth, Florida

February 19, 2016
Int'l. Paranormal Investigation
Catacombs of Paris
Paris, France

January 29, 2016
Paranormal Investigation
Heflinger Park Residence
Omaha, Nebraska

January 8, 2016
Volunteer Investigators
Overnight Spookover
The Deering Estate
Miami, Florida


>> Past PRISM events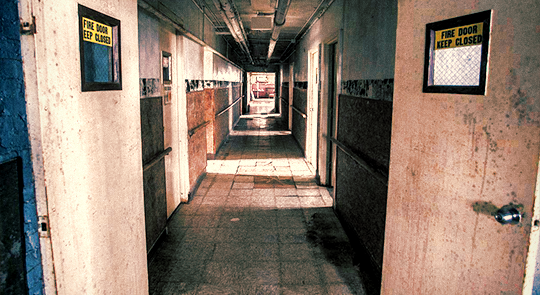 EDINBURGH MANOR - PRISM investigates one of the most haunted locations in the Midwest!
PRISM PARANORMAL RESEARCH
PRISM INVESTIGATION VIDEO | Gold Coast Railroad Museum - Miami (4/16/16)
PRISM Paranormal Research Florida investigated the haunted Gold Coast Railroad Museum in Miami, Florida on April 16, 2016. PRISM investigators were founder of PRISM, David Pierce Rodriguez, PRISM paranormal investigator Eric Vanderlaan, and his son, honorary Jr. Investigator, Max Vanderlaan. Instruments used on this particular investigation were a full-spectrum modified GoPro Hero 3, 4K Action Camera, SJCAM SJ4000 Action Camera, K-II EMF meters, REM-POD, and an early-model Japanese Panasonic RR-DR60 audio recorder to record electronic voice phenomena (EVP).

Multiple

Electronic voice phenomena (EVP)

were recorded in the Western Pacific "California Zephyr" Vista-Dome Car "Silver Crescent" train and the Seaboard Air Line Railroad (SAL) Dining Car. Though often unidentifiable, some EVP are clearly voices and may in fact be a form of communication with the dead. We would like to thank the Gold Coast Railroad Museum staff and the Haunted South Florida paranormal research team!
Kinect for Windows Blog - Ghost hunting w/ Kinect (January 27, 2016)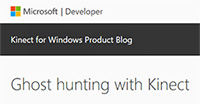 On January 27, 2016, PRISM was mentioned in the official Microsoft Developer Kinect for Windows Product Blog in a post entitled 'Ghost hunting with Kinect' about using the latest Kinect sensor and SDK for capturing evidence of the paranormal.

- Click here to read the original post
VeryParanormal Interview PRISM Founder (Dec. 8, 2015)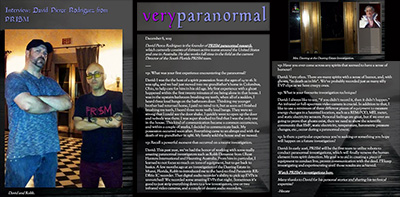 On December 8, 2015, Marielle Pawson (Hecate) interviewed PRISM founder David Pierce Rodriguez for VeryParanormal.com.
Radio Interview | Q98.5 Pat & JT Show After Dark 2015 (Oct. 30, 2015)
PRISM Nebraska's, Kelley Kennedy and John Powers, were interviewed on the
Q98.5 Pat & JT
After Dark r
adio event on October 30, 2015.
PRISM INVESTIGATION VIDEO | The Paris Catacombs (February 19, 2016)
On February 19, 2016, PRISM Founder, David Pierce Rodriguez, investigated the notoriously haunted Paris Catacombs. Several solo EVP sessions were carried out in the catacombs. Electronic Voice Phenomena (EVP) is communication by spirits through digital audio recorders or other electronic devices. An Ovilus III ITC Research Device was used as well for further spirit interaction.

The Paris Catacombs: A huge subterranean tunnel network located underneath the city of Paris, France. Beginning in 1785, Paris' overpopulated cemeteries were exhumed and millions of bodies were transferred to the Catacombs. The Catacombs' quarries, caves, and tunnels stretch over 300 kilometers (186 miles). The Catacombs are full of monumental tablets and archways bearing inscriptions. Black lines were painted on the ceiling to help people find their way out. The remains of over six million people line the walls of the world's largest underground ossuary.
PRISM Investigation Video - Gulfstream Hotel (February 27, 2016)
PRISM Video | Anomaly captured w/ KINECT v2 sensor (11/28/2015)


The following footage was recorded during our parnaormal investigation of the reportedly haunted home located near the International airport in Miami, Florida on the evening of November 28, 2015. Paranormal investigators present were PRISM founder David Pierce Rodriguez and PRISM medium Gerard Leiser.

This is our first orb-like anomaly recorded using the Kinect v2 sensor for Windows. The anomaly is not an insect, yet it does appear to cast a shadow. It also seems as if the orb-like object has a measurable mass. Could this be something paranormal? We'll let you decide for yourself. The Microsoft Kinect enables us to capture evidence of the paranormal through the use of an RGB camera and depth sensor (infrared laser projector & monochrome CMOS sensor). This provides us with full-body 3D motion capture, facial recognition capabilities, and skeletal tracking.
Radio | 1800 Online - Radio Martí (Sep. 17, 2015)
FEATURED ELECTRONIC VOICE PHENOMENA (EVP)
CLASS A EVP - #SLAVIC (6/8/05) - This EVP was recorded on an Olympus W-10 digital audio recorder by PRISM founder David Pierce Rodriguez on June 8, 2005, while taping a short interview with jail manager Ryan Roenfeld regarding the deaths that have occurred in the Historic Old Pottawattamie County Squirrel Cage Jail in Council Bluffs, Iowa over the years.
At the end of the interview, jail manager Ryan Roenfeld says, "That's really about all the prisoner deaths we know about ...not very many of them." After saying that, a click is heard followed by a male voice saying something unintelligible. Immediately after that, the interview comes to an end, both David and Ryan can be heard laughing and talking. Both David or Ryan did not hear the click or the voice. The ale voice was only later heard when listening back to the original digital recording.

Listeners have identified what sounds like a Slavic male voice.



This video clip contains an EVP analyzed with the use of an output level meter,
a 3D spectrogram (top area), and spectrum (bottom bar).
Villisca Ax Murder House - Child Apparition Photo (8/30/13)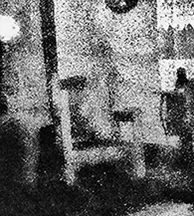 On August 30, 2013, PRISM spent another night at one of our favorite haunts, the Villisca Axe Murder House. The amount of evidence captured at the house was phenomenal. This photo was shot on an Olympus 8MP digital camera by PRISM investigator Michael Beacom in the parlor room. Is this the ghost of one of the Moore children?

>> Take a look at the original photo here