Events/Investigations
December 18, 2014:
Guest Presentation
Marrs Magnet School
Omaha, Nebraska

December 2014:
The Edinburgh Manor
Scotch Grove, Iowa

November 22, 2014:
Private Investigation
Haunted Limousine
Council Bluffs, Iowa

November 20, 2014:
PRISM Guest Investigators
The Charles Deering Estate
Cutler, Florida

November 14, 2014:
Private Investigation
West Omaha Residence
Omaha, Nebraska

November 8, 2014:
Private Investigation
Council Bluffs, Iowa

November 4, 2014:
Private Investigation
Haunted Limousine
Council Bluffs, Iowa

November 2014:
Private Investigation
Corby Street House
Haunted property for sale
Omaha, Nebraska

October 31, 2014:
TV Guest Interview
América TeVé - Arrebatados
Airing @ 4 PM
Miami, Florida

October 31, 2014:
Pat & JT In the Morning Q98.5
​Omaha, Nebraska
Podcast replay

October 30, 2014:
TV News Interview
América TeVé - America Noticias
Airing @ 5 PM WFUN Miami
Replay @ 7 & 8 PM on TeVeo
Miami, Florida

October 30, 2014:
TV News Interview
WOWT NBC News
Airing @ 10 PM
Omaha, Nebraska

October 25, 2014:
Event
Pat and JT After Dark 2.0
Omaha, Nebraska

October 24, 2014:
UNO Paranormal Summit
~ In Memory of PRISM Omaha Director, Carl Norgard ~
Omaha, Nebraska
6 PM to 10PM

October 23, 2014:
PRISM Guest Investigators
The Charles Deering Estate
Cutler, Florida

October 22, 2014:
Presentation
Elkhorn Ridge Middle School
Omaha, Nebraska

October 17, 2014:
Private Tour/Investigation
The Charles Deering Estate
Cutler, Florida

>> More PRISM events
PRISM PARANORMAL RESEARCH 2014
Villisca Ax Murder House - Best EVP's of the Children (2004-2014)
This video includes audio analysis, using the latest 3D spectrogram software, to compare various Electronic Voice Phenomena (EVP) of the Moore and Stillinger children, captured on both digital audio recorders and video cameras at the Villisca Ax Murder House, located in Villisca, Iowa, by four separate paranormal research teams.

Over a 10 year span, PRISM has recorded many Class A EVP of children sounds that we believe to be the the deceased Moore and Stillinger kids. The same spirit/ghost voices of these children have been recorded by other paranormal teams, on different recording sources, and on different dates. Great EVP audio comparisons from ORBS, Smoky Valley Paranormal, and Rachel M. Jones, confirm that we are all recording the same children! If we are all recording the same children's voices, it must be proof that the dead can speak.
Arrebatados - Full television clip in Spanish (Nov. 20, 2014)
PRISM paranormal founder David Pierce Rodriguez was a guest on Arrebatados with María Laria (América TeVé) on November 20, 2014. The topic of the show was spirit communication via the Ouija board and electronic apps, in particular, the ECHOVOX Android app. This is the full video clip from the live television show.

En español:
Fundador del equipo de investigación PRISM, David Pierce Rodríguez, fue un invitado en la programa en vivo Arrebatados con María Laria (América TeVé) en Miami, Florida, el 20 de noviembre de 2014. El tema de la programa era la comunicación a través del espíritu usando la Ouija y aplicaciones electrónicas, en particular, la aplicación Android, ECHOVOX Android. Este es el video completo del programa.
WOWT NBC OMAHA - Television (October 30, 2014)
WOWT NBC News Omaha, Nebraska interviewed Kelley Kennedy, Director of PRISM Omaha, after hearing that the house at 11239 Corby Street was being listed as haunted. PRISM has been investigating paranormal claims at the Corby residence in Northwest Omaha since 2012. The video piece was entitled, "Real Life Haunted Home For Sale" and aired on October 30, 2014.
PARANORMAL RESEARCH EQUIPMENT FOR 2015
First Look at the Ovilus IV 4 ITC Research Device - October 2014
This is a first look at the Digital Dowsing Ovilus IV (4) Instrumental Transcommunication (ITC) research device, also known as a "spirit box" or "ghost box".

In this video, all modes are looked at and the device is compared to the last model Ovilus III (3). The device tested is a pre-order model from early October 2014.
FEATURED ELECTRONIC VOICE PHENOMENA (EVP)
FEATURED ELECTRONIC VOICE PHENOMENA (EVP)
CLASS A EVP - #SLAVIC (6/8/05) - This EVP was recorded on an Olympus W-10 digital audio recorder by PRISM founder David Pierce Rodriguez on June 8, 2005, while taping a short interview with jail manager Ryan Roenfeld regarding the deaths that have occurred in the Historic Old Pottawattamie County Squirrel Cage Jail in Council Bluffs, Iowa over the years.
At the end of the interview, jail manager Ryan Roenfeld says, "That's really about all the prisoner deaths we know about ...not very many of them." After saying that, a click is heard followed by a male voice saying something unintelligible. Immediately after that, the interview comes to an end, both David and Ryan can be heard laughing and talking. Both David or Ryan did not hear the click or the voice. The ale voice was only later heard when listening back to the original digital recording.

Listeners have identified what sounds like a Slavic male voice.



This video clip contains an EVP analyzed with the use of an output level meter,
a 3D spectrogram (top area), and spectrum (bottom bar).
Villisca Ax Murder House - Child Apparition Photo (8/30/13)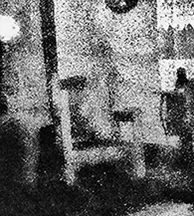 On August 30, 2013, PRISM spent another night at our favorite haunt, the Villisca Axe Murder House. The amount of evidence captured at the house was phenomenal. This photo was shot on an Olympus 8MP digital camera by PRISM investigator Michael Beacom in the parlor room. Is this the ghost of one of the Moore children?

>> Take a look at the original photo here



Psychic Andy Myers