Events & Investigations
October 9, 2015
Volunteer Investigators
Overnight Spookover
The Deering Estate
Miami, Florida

August 28, 2015
Paranormal Investigation
The Deering Estate
Miami, Florida

August 1, 2015
Guest Speakers (@ 8:00 pm)
Osfest 8
Omaha, Nebraska

July 29, 2015:
Paranormal Investigation
South Omaha, Residence
Omaha, Nebraska

July 13-15, 2015:
Television Appearance
Villa Paula investigation
America TeVe | Arrebatados
Miami, Florida

July 9, 2015:
Paranormal Investigation
Villa Paula Miami
Little Haiti, Miami, Florida

June 26, 2015:
Paranormal Investigation
Dodge Street Business
Omaha, Nebraska

June 19, 2015:
Paranormal Investigation
Corby Street House
Miami, Florida

June 5, 2015:
Television Appearance
America TeVe | Arrebatados
Miami, Florida

May 30, 2015:
Paranormal Investigation
Farrar Elementary School
Maxwell, Iowa

May 27, 2015:
Paranormal Investigation
Davie Residence
Davie, Florida

May 18, 2015:
Speaking Engagement
R M Marrs Middle School
Omaha, Nebraska

May 17, 2015:
Paranormal Investigation
It's All About the Bees!
Ralston, Nebraska

April 27, 2015:
Paranormal Investigation
Coral Castle Museum
Homestead, Florida

April 11, 2015:
Paranormal Investigation
Villisca Ax Murder House
Villisca, Iowa

March 27, 2015:
Paranormal Investigation
Cattail Creek Residence
Omaha, Nebraska

March 21, 2015:
Paranormal Investigation
Farrar Elementary School
Maxwell, Iowa

March 13, 2015:
Paranormal Investigation
Residence
Oakland, Nebraska

February 28, 2015:
Paranormal Investigation
Residence
North Omaha, Nebraska

February 20, 2015:
Paranormal Investigation
Residence
Ashland, Nebraska

February 19, 2015:
Official Ghost Tour
Deering Estate @ Cutler
Miami, Florida

January 16, 2015:
Paranormal Investigation
Residence
South Omaha, Nebraska

January 2, 2015:
Overnight Spookover Ghost Tour
The Charles Deering Estate
Miami, Florida


>> Past PRISM events
PRISM PARANORMAL RESEARCH
Which P.R.I.S.M. Paranormal Team are you looking for?
PRISM - OSFEST 8 (August 1, 2015 @ 8:00 PM)

Come see PRISM speak at Osfest 8 on August 1, 2015 at 8:00 pm. Registration
PRISM on WSVN-TV 7NEWS FOX News Miami (7/22/15)
Coral Castle - PRISM & Univision / Galavision TV 4/27/15)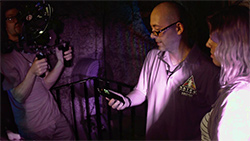 Accompanied by a television crew from Univision / Galavision, PRISM conducted an investigation of the Coral Castle on the night of April 27, 2015. Attending were PRISM Miami Director David Pierce Rodriguez, PRISM investigator and Medium Gerard Leiser, PRISM investigator and Case Manager Eric Vanderlaan, PRISM Psychic Ana M. Echeverri-Mourao.

Our episode 'Miami' on the Galavision travel television show El Camino starring Fernanda Kelly, Danilo Carrera, and Roger Gozalez began airing on Galavision on June 26, 2015.
The Deering Estate ~ Miami, Florida (Jan. 3, 2015)
Recorded in the 3rd floor conference room in the Richmond Cottage. Video of an EchoVox Instrumental Transcommunication (ITC) session on January 3, 2015 during the Spookover public paranormal investigation/ghost tour of the Deering Estate. We used both the EchoVox System 2.5 Ghost Box app (running on an android tablet) and the Digital Dowsing Ovilus III ITC Research Device (set in Phonetic mode). During the session, four Electronic Voice Phenomena (EVP) were captured, several amazing Ovilus III and EchoVox responses were recorded, a couple of unexplainable EMF spikes were documented on multiple K-II EMF meters.
WOWT NBC OMAHA - Television (October 30, 2014)
WOWT NBC News Omaha, Nebraska interviewed Director of PRISM Omaha, Kelley Kennedy, after hearing that a house at 11239 Corby Street was being listed as haunted. PRISM has been investigating paranormal claims at the Corby residence in Northwest Omaha since 2012. The video piece was entitled, "Real Life Haunted Home For Sale" and aired on October 30, 2014.
Villisca Ax Murder House | The Children Speak (2004-2014)
This video includes audio analysis, using the latest 3D spectrogram software, to compare various Electronic Voice Phenomena (EVP) of the Moore and Stillinger children, captured on both digital audio recorders and video cameras at the Villisca Ax Murder House, located in Villisca, Iowa, by four separate paranormal research teams.

Over a 10 year span, PRISM has recorded many Class A EVP of children sounds that we believe to be the the deceased Moore and Stillinger kids. The same spirit/ghost voices of these children have been recorded by other paranormal teams, on different recording sources, and on different dates. Great EVP audio comparisons from ORBS, Smoky Valley Paranormal, and Rachel M. Jones, confirm that we are all recording the same children! If we are all recording the same children's voices, it must be proof that the dead can speak.
NEW PARANORMAL RESEARCH GEAR
First Look at the Ovilus IV 4 ITC Research Device
October 2014 - PRISM Miami just received their new Ovilus IV! This is a first look at the Digital Dowsing Ovilus IV (4) Instrumental Transcommunication (ITC) research device, also known as a "spirit box" or "ghost box".

In this video, all modes are looked at and the device is compared to the last model Ovilus III (3). The device tested is a pre-order model from early October 2014.
FEATURED ELECTRONIC VOICE PHENOMENA (EVP)
FEATURED ELECTRONIC VOICE PHENOMENA (EVP)
CLASS A EVP - #SLAVIC (6/8/05) - This EVP was recorded on an Olympus W-10 digital audio recorder by PRISM founder David Pierce Rodriguez on June 8, 2005, while taping a short interview with jail manager Ryan Roenfeld regarding the deaths that have occurred in the Historic Old Pottawattamie County Squirrel Cage Jail in Council Bluffs, Iowa over the years.
At the end of the interview, jail manager Ryan Roenfeld says, "That's really about all the prisoner deaths we know about ...not very many of them." After saying that, a click is heard followed by a male voice saying something unintelligible. Immediately after that, the interview comes to an end, both David and Ryan can be heard laughing and talking. Both David or Ryan did not hear the click or the voice. The ale voice was only later heard when listening back to the original digital recording.

Listeners have identified what sounds like a Slavic male voice.



This video clip contains an EVP analyzed with the use of an output level meter,
a 3D spectrogram (top area), and spectrum (bottom bar).
Villisca Ax Murder House - Child Apparition Photo (8/30/13)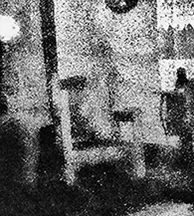 On August 30, 2013, PRISM spent another night at our favorite haunt, the Villisca Axe Murder House. The amount of evidence captured at the house was phenomenal. This photo was shot on an Olympus 8MP digital camera by PRISM investigator Michael Beacom in the parlor room. Is this the ghost of one of the Moore children?

>> Take a look at the original photo here