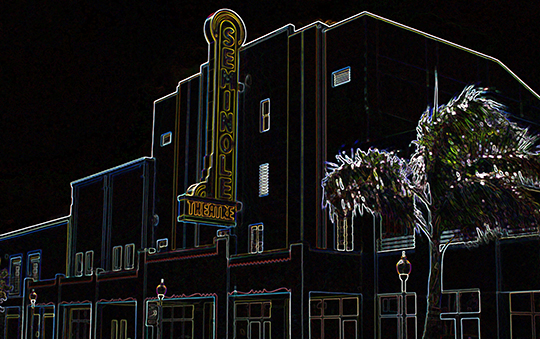 THE SEMINOLE THEATRE

HOMESTEAD, FLORIDA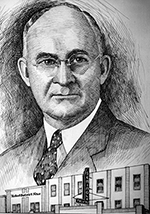 The Seminole Theatre is located at 18 N. Krome Avenue in Homestead, Florida.

The history of the Seminole Theatre begins 25 miles North of Homestead. The Airdrome Theatre was located next to Burdines in Miami, currently Dadeland Mall. It was built in 1912 and its earliest use was as a hall to display a stuffed 55' long whale shark known as the "Big Fish". In 1914, the Airdrome Theatre began to show movies. In 1916, the theater was dismantled and shipped by train to Homestead, where it was reassembled on Railroad Avenue, currently known as Flagler Avenue.

After the move to Homestead, the name was changed to the Homestead Garden Theatre, where silent films were shown by owner Jim "J.W." English. In 1919 the name was changed to the Seminole Theatre. The original building is now known as the Landmark Hotel.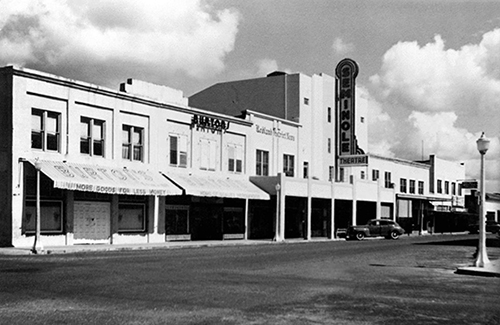 The newly rebuilt 2-story Seminole Theatre after the 1940 fire
The then 30-year old Jim, married the Seminole Café & Hotel owner Mrs. Gussie E. Joiner. The marriage did not last long. Soon after the divorce Jim English constructed a new concrete theater on the west side of Krome Avenue. He took the name Seminole Theatre with him to the new location. The new Seminole Theatre opened on November 26, 1921. The local newspaper reported a crowd of 1,000 people showed up for the grand opening.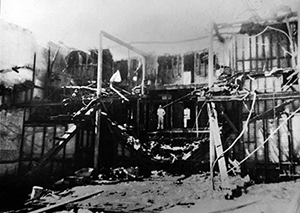 The Seminole Theatre fire took place on March 8, 1940 and the property was destroyed, causing $35,000 in damage.

Fifty-two years later later, in 1992, the destructive Hurricane Andrew unroofed the theater. The following year, the owners decided to donate the badly damaged structure to the city.

In May of 2014, Homestead citizens voted in favor of a $5 million bond to renovate the historic theater as a cultural arts center. After nearly 40 years, on December 12, 2015, the Seminole Theatre reopened its doors.

PRISM South Florida will be investigting the Seminole Theatre in January of 2021.

* The official Seminole Theatre website