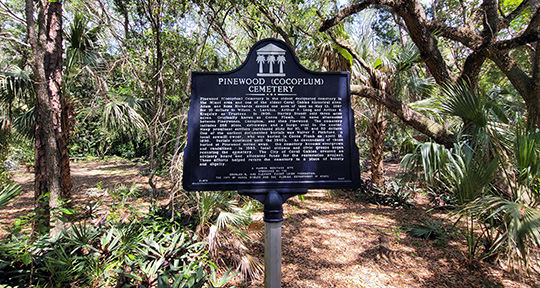 Pinewood Cemetery

7220 SW 47th Ct, Coral Gables, FL 33143
History of the Pinewood Cemetery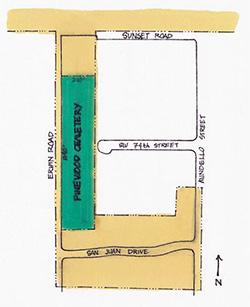 Pinewood Cemetery is located in the City of Coral Gables on Erwin Road (47th Avenue) south of Sunset Drive. It is the oldest cemetery south of the Miami River, and the final resting place of many of Dade County's pioneer settlers.
It was first known as Larkins Cemetery, named for the Larkins settlement that became South Miami. Later, the cemetery was called Cocoplum, Pineywoods and finally, Pinewood.

The importance of the cemetery was evidenced by the names of early prominent lot purchasers. Among the families recorded were Barrs, Combs, Dowling, Hardee, Larkins, Laesch, Brooke, Mitchell, Munroe, Pent, Perry, Plummer, Romph, Roberts and Walker.
The last known burial in Pinewood was in the 1940's. After that the cemetery stood forgotten, the descendants of the deceased having scattered, as families do. The cemetery became overgrown, was desecrated by vandalism, and headstones were broken and stolen.
In 1983, a group of citizens interested in history, genealogy and historic preservation took an interest in the restoration of the cemetery. The City of Coral Gables lent its support by the appointment of a citizens' advisory board and later by the allocation of funds for the restoration project. Because of the dedicated interest of this citizens board and the support of the City of Coral Gables, significant progress has been made in returning the cemetery to a place of beauty and dignity.
In 1989, the City of Coral Gables provided funds to construct a rock wall along the Erwin Road boundary. The Coral Gables Chapter of the DAR (Daughters of the American Revolution) placed a bronze historic marker on the new wall. Several of the missing gravestones have been located and are being returned to their original sites.
A master plan for the clearing of undesirable vegetation and the replanting of native plant material has been adopted. Plants and trees will be given identifying markers.
Research is ongoing through Dade County historical records and through burial records to identify those buried here. In some cases, exact locations are known. All grave sites that can be identified will eventually have markers.
A Memorial Day service is held each year at the cemetery to honor those buried here. Many neighbors of the cemetery, descendants of those buried at Pinewood and interested citizens of Coral Gables, attend the service. The public is invited.

Official Pinewood Cemetery website
Pinewood Cemetery Restoration Fund website
PINEWOOD CEMETERY PLOT MAP