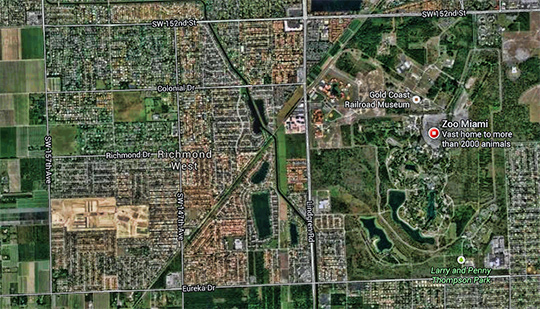 Richmond West Residence

Miami, Florida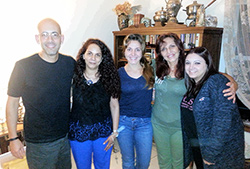 In November of 2014, PRISM was contacted by a by a pianist who lived with her mother in a 3-bedroom home located in the Richmond West area of South Miami, Florida, near Zoo Miami. The family had experienced several paranormal over the course of several years, but the activity had been increasing in the last couple of months. These paranormal events included hearing mysterious voices, seeing unexplained lights, smelling strange foul odors from the master bedroom, and having the bathroom door being slammed at the daughter's arm while alone in the house.
On December 6, 2014, the PRISM Miami team conducted a paranormal investigation of the home. PRISM investigators present during the investigation included David Pierce Rodriguez, Stephanie Bautis, Ana Ana M. Echeverri-Mourao, and Gerard Leiser. The mother and daughter were also there with us. This trilingual investigation was conducted in English, Spanish, and Portuguese.
PRISM - Richmond West - EVP Male Voice
Electronic Voice Phenomena (EVP) Audio Spectrogram Analysis of an EVP of a male voice recorded on two separate audio recorders as well as two video cameras. The homeowner was experiencing a presence in the room with her while she practiced piano at night. The last time this happened, she was playing Charlie Chaplin's 'Smile'. We decided to conduct an EVP session while she played. We left an Ovilus III ITC device running the entore session.
EchoVox Response #1 | Richmond West Residence, Miami, FL (12.6.14)
This ITC (Instrumental Transcommunication) EchoVox response was recorded at approximately 10:40 PM on December 6, 2014 by PRISM Miami during the paranormal investigation of a Richmond West, South Miami, Florida home. In this audio clip, PRISM founder David Pierce Rodriguez asks how many spirits are in the room with him, and the EchoVox responds with several numbers.
We hear the responses 9, 7, 10, then 8. We later got names. According to both the EchoVox and our Ovilus III, there was a spirit named Jim and another one named Paul (Paulo) living in the home, along with a family that died in the area, which prior to Hurricane Andrew, was a mobile home community. This section of Richmond West was destroyed by Hurricane Andrew in August 1992.