PRISM Teams
2017 PRISM EVENTS
November 15, 2017
Radio Interview
La Poderosa 670 AM
El Mundo al Día con Enrique Encinosa
South Florida, Keys, Orlando

October 29, 2017
Event Host
Hit That Dive
4th Annual Haunted Hangover
Omaha, Nebraska

October 26, 2017
Event Host
Historic Ghost Tour​
Deering Estate
Miami, Florida

October 21, 2017
Event Host
Public Paranormal Investigation​
Gold Coast Railroad Museum
Miami, Florida

October 19, 2017
Event Host
Historic Ghost Tour
Deering Estate
Miami, Florida

October 13, 2017
Event Host
Overnight Ghost Hunt (Spookover)​
Deering Estate
Miami, Florida

October 6, 2017
Event Host
Ghost Hunt w/ Arvida M.S.
Deering Estate
Miami, Florida

October 2017
(Friday nights in Oct.)
Event Host
Haunted Hollow
Omaha, Nebraska

October 2017
(Weekends in Oct.)
Event Host
Paranormal Classes
Nopeming Sanitorium
Duluth, Minnesota

August 18, 2017
Paranormal Investigation
Residence
Kendall, Florida

August 16, 2017
Radio Interview
La Poderosa 670 AM
El Mundo al Día con Enrique Encinosa
South Florida, Keys, Orlando

June 14, 2017
Radio Interview
La Poderosa 670 AM
El Mundo al Día con Enrique Encinosa
South Florida, Keys, Orlando

May 9, 2017
Paranormal Investigation
Residence
Doral, Florida

May 6 & 7, 2017
Event
3rd Annual Black Angels Hearse & Pro Car Show
Westfair Fairgrounds
Council Bluffs, Iowa

April 1, 2017
Paranormal Investigation
Victor Hotel
Victor, Colorado

March 25, 2017
Paranormal Investigation
Gulfstream Hotel
Lake Worth, Florida

February 2017
Paranormal Investigation
Museum of Colorado Prisons
Cañon City, Colorado

February 22, 2017
Radio Interview (8-10 PM)
La Poderosa 670 AM
El Mundo al Día con Enrique Encinosa
South Florida, Keys, Orlando

February 18, 2017
Paranormal Investigation
Undisclosed location
Broward County, Florida

February 3, 2017
Paranormal Investigation
Deering Estate
Miami, Florida

January 2017
Paranormal Investigation
Cheeseman Park
Victor, Colorado

January 21, 2017
Paranormal Investigation
Private Residence
Omaha, Nebraska

January 18, 2017
Radio Interview
La Poderosa 670 AM
El Mundo al Día con Enrique Encinosa
South Florida, Keys, Orlando

January 11, 2017
Award Ceremony
Programming Partner of the Year
Deering Estate
Miami, Florida

January 6, 2017
Event Host
Deering Estate
Miami, Florida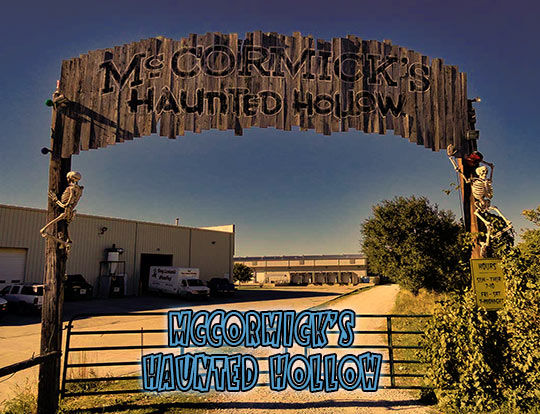 12501 Old Giles Road, La Vista, Nebraska 68128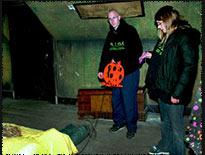 On Mike & Jill McCormick's property lies a farmhouse built in the 1880's. When the McCormick's originally bought the land, it was disclosed to them that a teenager had died in the farmhouse. Soon after, the owners reported hearing strange sounds and items being moved during renovation of the house. In 2004, a psychic was brought in and she confirmed that there indeed was paranormal activity going on in the house. The McCormick's decided to convert the farmhouse into a real "haunted house" that everyone could enjoy. The Haunted Hollow Haunted Theme Park is now known as one of Omaha's best Halloween attractions.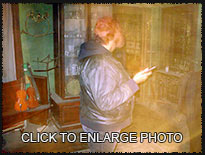 PRISM conducted several investigations in 2006 and was able to capture several eerie EVPs and photographs, once again confirming that the house was truly haunted. The farmhouse was to be torn down, but after the hearing these EVPs, the McCormick's decided to keep the house intact and to keep the well-known Omaha Halloween attraction going. PRISM hopes to continue investigating this hotbed of paranormal activity in 2014 and for years to come.
PRISM Paranormal Investigation @ Haunted Hollow (10/10/15)
This is video from PRISM's investigation at Haunted Hollow in LaVista, Nebraska on October 10, 2015..
PRISM Paranormal Investigation - Haunted Hollow (2013)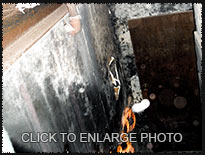 PRISM investigated the farm house again on October 21, 2013. PRISM investigators present were Carl, Bo, Kelley, Lisa, Nichole, Michael, and Cassie. Also present were four contest winners from Q98.5 radio station giveaway, two 2013 UNO Paranormal Summit winners, plus Joe, Gabby, and Junior from Haunted Hollow. Several EVP were recorded.

This EVP was captured by PRISM investgator Mike Beacom on a digital audio recorders on the basement bridge of Haunted Hollow at 11:50pm. PRISM investigator Cassie Beacom says, "Is it OK that we're here?", followed by the EVP.
The EVP below was recorded on PRISM investgator Nichole Crockett's digital audio recorder in the Library Room of Haunted Hollow at 12:45am while PRISM Director Carl Norgard was alone in the room. Carl can be heard asking, "...or do you hide in the corners?", immediately followed by the EVP, what appears to be 2 separate male voices speaking over eachother.
The EVP below is of a whistling sound was recorded in the Hunter Room (formerly known as the Mausoleum Room) at 12:45am. PRISM investigator Kelley Kennedy says, "Can you come in and say hi?". A mysterious whistle noise is then heard, followd by Gabby from Haunted Hollow saying, "Grandpa's here. Hi Grandpa".
The EVP below was recorded by PRISM investgator Nichole Crockett on a digital audio recorder in the Library Room of Haunted Hollow at 11:50pm. An EVP is heard immediately before a PRISM investigator says, "I think we're done".
Radio Ad - Haunted Hollow & PRISM (2006)
Below is a short Haunted Hollow radio promo that aired in October 2006 featuring several of PRISM's EVPs from our investigation of the farmhouse. Photo credits Carl Norgard and David Pierce Rodriguez.
PRISM Paranormal Investigation - Haunted Hollow (2006)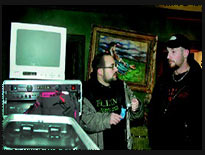 Date:
September 29, 2006
Time:
7:00 pm to 3:00 am
Weather Outside:
Showers & isolated thunderstorms
Outside Temperature:
57°F - 59°F
Inside Temperature:
70°F - 74°F
Humidity Outside:
90%
Barometric Pressure:
29.57 in / 1001 hPa
Sunrise & Sunset:
6:55 am & 7:40 pm
Moon Phase:
Waning Gibbous (94% Full)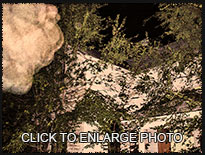 Solar Activity: Normal
Geomagnetic Activity: Quiet

PRISM was the first paranormal team to investigate this spooky farmhouse in September of 2006.

PRISM investigators present were:
David Pierce Rodriguez, Carl Norgard, Dottie Norgard, Kelley Norgard, Bo Kennedy, Trevor Redmond, Dan Christianson, & John Shrimpton. Many very clear EVPs were recorded during the 2006 investigations. These incredible EVPs can be heard in the video below.
Television - Psychic visits Haunted Hollow (2004)
More P.R.I.S.M. Paranormal Investigations