Events & Investigations
December 2014:
The Edinburgh Manor
Scotch Grove, Iowa

November 14, 2014:
Private Investigation
West Omaha Residence
Omaha, Nebraska

November 8, 2014:
Private Investigation
Council Bluffs, Iowa

November 4, 2014:
Private Investigation
Haunted Limousine
Council Bluffs, Nebraska

November 2014:
Private Investigation
Corby Street House
Haunted property for sale
Omaha, Nebraska

October 31, 2014:
TV Guest Interview
América TeVé
Airing @ Oct. 31
Miami, Florida

October 31, 2014:
Pat & JT In the Morning Q98.5
​Omaha, Nebraska
On air from: 6:30 AM - 9:30 AM

October 28, 2014:
TV News Interview
WOWT NBC News
Airing @ 10 PM Tues. Oct. 28
Omaha, Nebraska

October 25, 2014:
Event
Pat and JT After Dark 2.0
Omaha, Nebraska

October 24, 2014:
UNO Paranormal Summit
~ In Memory of PRISM Omaha Director, Carl Norgard ~
Omaha, Nebraska
6 PM to 10PM

October 23, 2014:
PRISM Guest Investigators
The Charles Deering Estate
Cutler, Florida

October 22, 2014:
Presentation
Elkhorn Ridge Middle School
Omaha, Nebraska

October 17, 2014:
Private Tour/Investigation
The Charles Deering Estate
Cutler, Florida

October 10, 2014:
Private Investigation
Omaha Residence
Omaha, Nebraska

September 6, 2014:
Private Investigation
David City Residence
David City, Nebraska

May 22, 2014:
PRISM Omaha will be speaking at the R M Marrs Magnet Middle School for their week-long exploratory 'Ghost Hunters' unit.

May 10, 2014:
PRISM Miami conducting a private residential investigation with our friends Messengers Paranormal.

April 2014:
PRISM Miami researching several South Florida possibly haunted locations: Coral Castle, the Merrick House Coral Gables, the Biltmore Hotel, City of Miami Cemetery, Pinewood Cemetery, and Charlotte Jane Memorial Park (Coconut Grove Bahamian) Cemetery, the Coconut Grove Playhouse, and Peacock Park.
April 11, 2014:
Paranormal Investigation
Villisca Ax Murder House
Villisca, Iowa

February 2014:
Paranormal Investigation
Sokol Underground
Omaha, Nebraska

January 18, 2014:
Paranormal Investigation
Doodle's Grill
Glenwood, Iowa

>> More PRISM events
Recent Press

November 3, 2012: PRISM Director Carl Norgard and investigator Brian Heath were mentioned in a newspaper article entitled, Groups seek proof in a world of darkness. The article centered around PRISM's investigation of the Ball Cemetery in Springfield, Nebraska and was written by World-Herald Leader Staff Writer Mike Bell.

>> Read the article here
Recent Media

October 31, 2012
PRISM director Carl Norgard and lead investigator Kelley Kennedy were interviewed on Halloween 2012 on Omaha, Nebraska's Q98.5 FM on the Pat & JT in the Morning radio show. Several new EVPs from the historic Squirrel Cage Jail were played.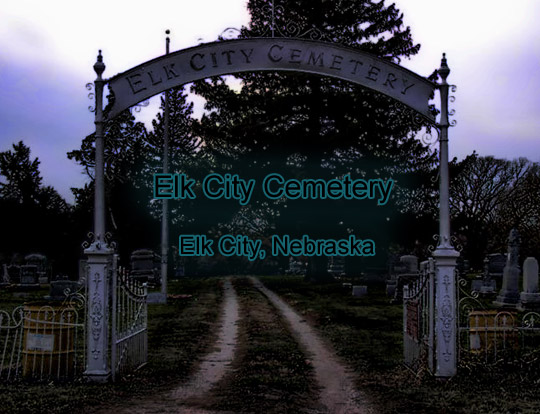 Investigation Notes
Location:
Elk City Cemetery (Douglas County)
Elk City Dr.
Elk City, NE 68183

Investigation Dates:
May 21, 2006
November 4, 2005
October 24, 2005
October 14, 2005

It was noted that the temperature was sometomes 10°F to 15°F colder inside the cemetery than outside of the cemetery.

Audio was recorded during our investigations of the cemetery, but no EVP were captured.

Official cemetery website
Photographic Evidence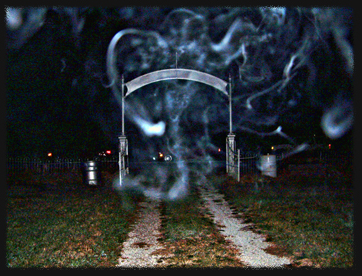 Date: October 14, 2005
Weather Outside: Clear
Outside Temperature:
62°F to 65°F
Humidity: 57%
Solar Activity: Normal
Geomagnetic Activity: Quiet

The PRISM team took this photo which reveals an ectoplasmic mist at the the cemetery gates.

Smoking was not permitted, and the weather was in the mid 60's with low humidity and no precipitation.

None of the PRISM investigators saw the mist with their own eyes, it only appeared in the photograph.