Events/Investigations
December 2014:
The Edinburgh Manor
Scotch Grove, Iowa

November 14, 2014:
Private Investigation
West Omaha Residence
Omaha, Nebraska

November 8, 2014:
Private Investigation
Council Bluffs, Iowa

November 4, 2014:
Private Investigation
Haunted Limousine
Council Bluffs, Nebraska

November 2014:
Private Investigation
Corby Street House
Haunted property for sale
Omaha, Nebraska

October 31, 2014:
TV Guest Interview
América TeVé - Arrebatados
Airing @ 4 PM
Miami, Florida

October 31, 2014:
Pat & JT In the Morning Q98.5
​Omaha, Nebraska
On air from: 6:50 AM - 9:00 AM

October 30, 2014:
TV News Interview
América TeVé - America Noticias
Airing @ 5 PM WFUN Miami
Replay @ 7 & 8 PM on TeVeo
Miami, Florida

October 30, 2014:
TV News Interview
WOWT NBC News
Airing @ 10 PM
Omaha, Nebraska

October 25, 2014:
Event
Pat and JT After Dark 2.0
Omaha, Nebraska

October 24, 2014:
UNO Paranormal Summit
~ In Memory of PRISM Omaha Director, Carl Norgard ~
Omaha, Nebraska
6 PM to 10PM

October 23, 2014:
PRISM Guest Investigators
The Charles Deering Estate
Cutler, Florida

October 22, 2014:
Presentation
Elkhorn Ridge Middle School
Omaha, Nebraska

October 17, 2014:
Private Tour/Investigation
The Charles Deering Estate
Cutler, Florida

October 10, 2014:
Private Investigation
Omaha Residence
Omaha, Nebraska

September 6, 2014:
Private Investigation
David City Residence
David City, Nebraska

May 22, 2014:
PRISM Omaha will be speaking at the R M Marrs Magnet Middle School for their week-long exploratory 'Ghost Hunters' unit.

May 10, 2014:
PRISM Miami conducting a private residential investigation with our friends Messengers Paranormal.

April 2014:
PRISM Miami researching several South Florida possibly haunted locations: Coral Castle, the Merrick House Coral Gables, the Biltmore Hotel, City of Miami Cemetery, Pinewood Cemetery, and Charlotte Jane Memorial Park (Coconut Grove Bahamian) Cemetery, the Coconut Grove Playhouse, and Peacock Park.
April 11, 2014:
Paranormal Investigation
Villisca Ax Murder House
Villisca, Iowa

February 2014:
Paranormal Investigation
Sokol Underground
Omaha, Nebraska

January 18, 2014:
Paranormal Investigation
Doodle's Grill
Glenwood, Iowa

>> More PRISM events
More Info
Read more about P.R.I.S.M. and this investigation in Jeff Belanger's book Encyclopedia of Haunted Places:
Recent Media


Pat & JT Q98.5 After Dark!
9pm to Midnight Saturday 10/26/13
Live @ the Q98 Five Leinie Lounge
Hosts: Pat & JT
Guests: PRISM & Psychic Andy
Encore broadcast:
Part 1 | Part 2
Recent Press

November 3, 2012: PRISM Director Carl Norgard and investigator Brian Heath were mentioned in a newspaper article entitled, Groups seek proof in a world of darkness. The article centered around PRISM's investigation of the Ball Cemetery in Springfield, Nebraska and was written by World-Herald Leader Staff Writer Mike Bell.

>> Read the article here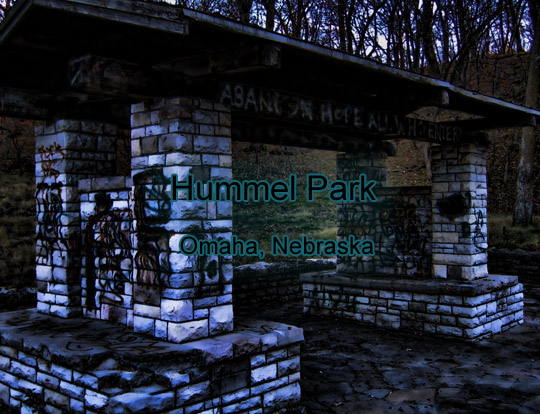 History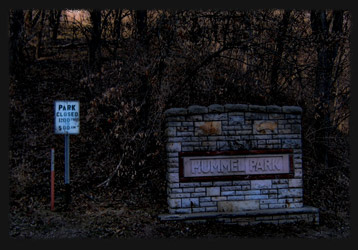 Hummel Park, which is said to be one of the most haunted places in Omaha, NE and rumored to be an ancient Native American burial ground, was once the site of a fur trading post run by Jean Pierre Cabanne in 1823. It was later named in tribute to J.B. Hummel, a long time superintendent of the Omaha Parks and Recreation Department.

The park has a very eerie feel to it. Spread over 200 acres, it is filled with steep hills and winding, dirt roads. An area at the eastern edge of the park is known as "Devil's Slide" because of the many suicides that have taken place there. Erosion has washed the area free from trees and resulted in steep cliffs and sharp drop-offs.

One of Hummel Park's most mysterious characteristics is the trees that bow over the road entering the park. It is believed that many black men and women were hanged from these trees in the early 1900's by local racist lynch mobs …and their souls still dangle from the trees. Park visitors claim to hear screams and cries coming from this park late at night.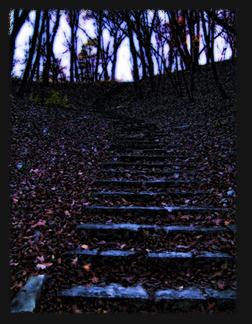 Another of Hummel Park's well known mysteries is the "Morphing Stairs," a long, stone staircase located at the top of the park. These stairs are said to "morph" because nobody knows the exact number of stairs in the staircase. Each time a person counts the number going up or down, a different number is counted on the return trip.

The "Morphing Stairs" lead down a large hill into a valley containing a decrepit pit area with a deteriorating shelter house. Spray-painted markings in this area, such as inverted pentagrams and swastikas, along with the presence of dead animal carcasses, indicate that Hummel Park is a place where occult rituals and devil worship have taken place.

In addition to these satanic rituals, numerous murders have been committed in the park. One of these murders involved an Omaha prostitute named Laura LaPointe, who, in 1983, was sexually assaulted and then robbed of $25 by four other prostitutes. She was beaten to death with a 6 foot tree limb and a softball bat, and later discovered in a roadside ditch located in a heavily-wooded area of the park.

The screams and cries heard by park visitors, coupled with local ghost hunters' claims of unexplained electro-magnetic readings and sightings of various ghostly apparitions, indicate a high level of paranormal activity at Hummel Park.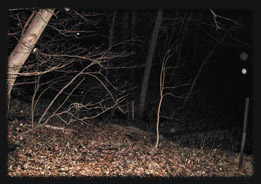 Excerpt from:
The Encyclopedia of Haunted Places: Ghostly Locales From Around the World
Hummel Park chapter written by:
David Pierce Rodriguez (PRISM founder)

Recent Hummel Park Murders:
12 year old Amber Marie Harris disappeared on November 29, 2005. She was last seen on a video tape from her school bus getting off the bus at 5:41 p.m approximately four blocks from her house. On February 14, 2006 Amber's backpack was found about a mile and a half from where Amber was last seen. On May 11, 2006, human remains were found in a shallow grave in Hummel Park. On May 19, 2006, the skeletal remains were identified as Amber's. The killer was eventually captured.

Paranormal Research & Investigative Studies Midwest (PRISM) investigated the murder site shortly after the murder, but was unable to capture any EVP evidence. Our visit was talked about on television's America's Most Wanted.
Video Clip - PRISM at Hummel Park (2013)
PRISM Director, Carl Norgard and lead investigator, Kelley Kennedy, were interviewed at Hummel Park in Omaha, Nebraska by CBS KMTV News Meghan Matthews in October 2013. The story aired on Halloween October 31, 2013.
Photographic Evidence
Video Clip - PRISM at Hummel Park (2010)
PRISM was interviewed for Omaha's NBC affiliate WOWT News. PRISM director, Carl Norgard and paranormal investigator, Kelley Kennedy were filmed at Hummel Park, talking about all the paranormal events that have happened there. The story aired on Halloween 2010.